Check in online at your Sunwise Bonaire accommodation!
Welcome to Bonaire!
Sunwise's teams always check in their guests in person, and in doing so, most of the following items are sure to come up for discussion as well. But to best prepare our guests for their trip to Bonaire, we have listed a few things to consider. Once the check in at your Sunwise accommodation has been, you don't have to worry about anything, except how to enjoy your time on our beautiful little island!
This is the dive sites map of our small island in the southern part of the Caribbean sea.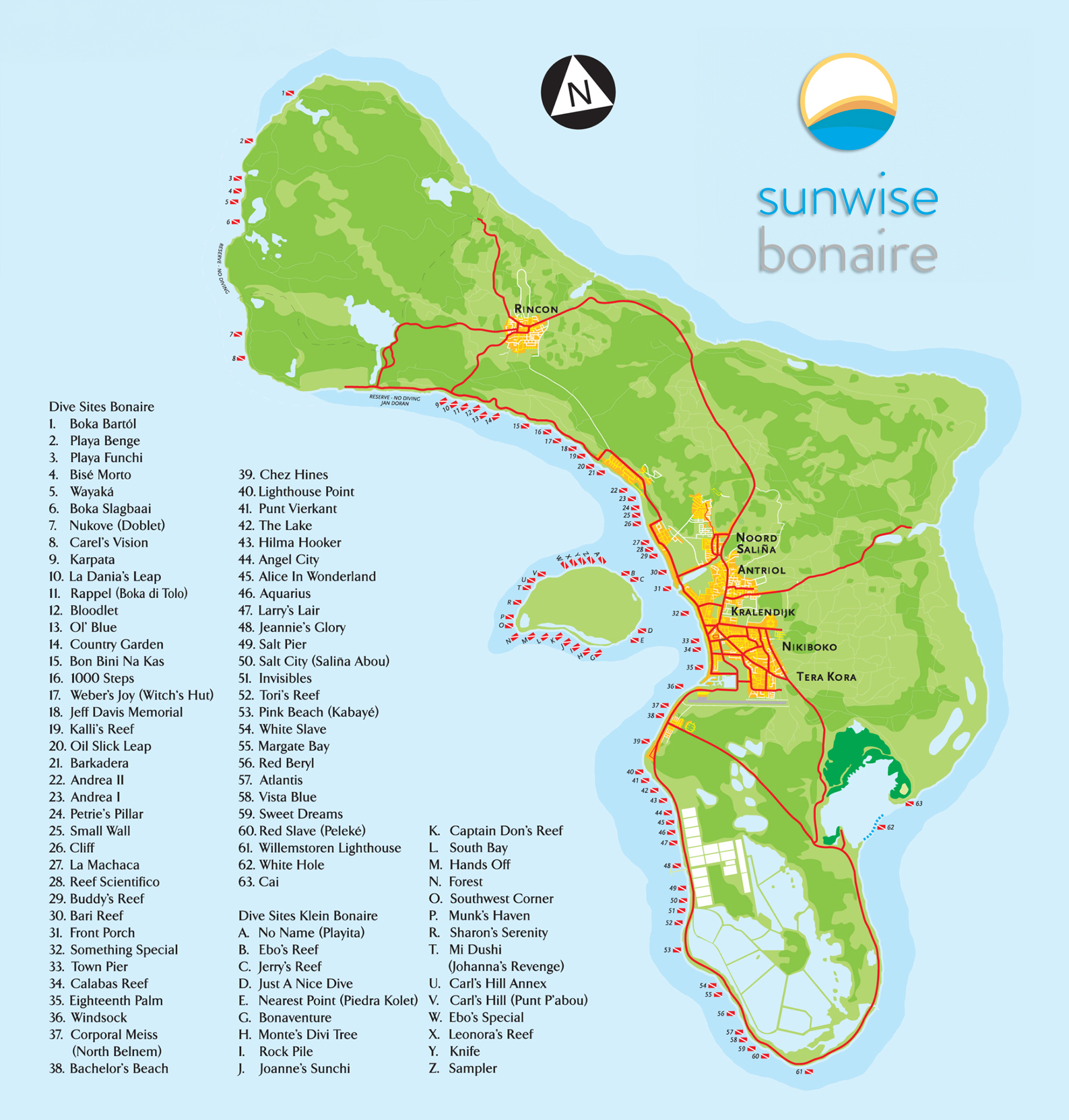 The hostesses and hosts of Sunwise Bonaire have collected attention points for you that will make your stay on Bonaire even more pleasant. Enjoy your time with us!
Things to do on Bonaire
There are many fun and interesting things to do on Bonaire, but we've highlighted four of our favorites here in advance:
A shortcut to the most valuable information
We have a comprehensive overview of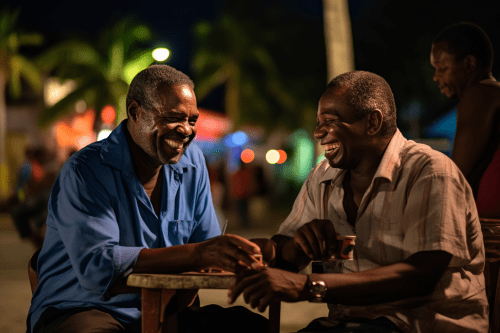 It's all about nature!
As you will soon notice: Bonaire is all about relaxing, no stress, and… nature! The island doesn't have high-rise buildings, artificial beaches and polluting industry. Bonaire and its people are all about nature and the environment. For that reason we also have 5, by the RAMSAR Convention protected areas (Washington Slagbaai, Lac Bay, Klein Bonaire, Gotomeer and the Pekelmeer), but also measures have been taken to protect the sensitive nature, including the flamingos, the pristine reefs, the mangrove forests, the sea turtles and the conch with its Queen's shell.
Nature Tag
This tag applies to all users of the Bonaire National Marine Park and the terrestrial Washington Slagbaai National Park. The Marine Park surrounds the entire island of Bonaire and Klein Bonaire from the high water mark to the depth of 60 meters (200ft). The fee for the Nature Tag provides the funds to manage and conserve Bonaire's beautiful parks. The Nature Fee is used for activities such as conservation programs, nature education, research and monitoring, awareness building, law enforcement, park facilities and maintenance.
Get your STINAPA nature tag here!
Air-conditioning and water
Generating electricity is very expensive on an island like Bonaire. And desalinating the ocean water to make our delicious drinking water is also a costly process.
Moreover, both are damaging to the environment. For this reason, we ask our guests not to leave the air conditioners on when they leave the accommodation (all units are modern types that cool down the room within minutes) and not to leave the water taps open unnecessarily.
Getting groceries
On Bonaire you will find a number of large, Europe-oriented grocery stores and a large number of Chinese supermarkets.
We have put the largest, with a link to the exact location, at a glance:
Kralendijk
Kralendijk is the capital of Bonaire and the village is located on the middle west side of the island. The map below (download larger PDF version here, or click the map) is of the center and on the big map above, Kralendijk is located opposite Klein Bonaire.
On the map below you see an oval in the middle. That is the stadium that forms a beautiful orientation point: here the center starts.
The yellow line close to the sea is the boulevard (one-way traffic from north to south) and where the information-i is, the Kaya Grandi, our only real shopping street, starts.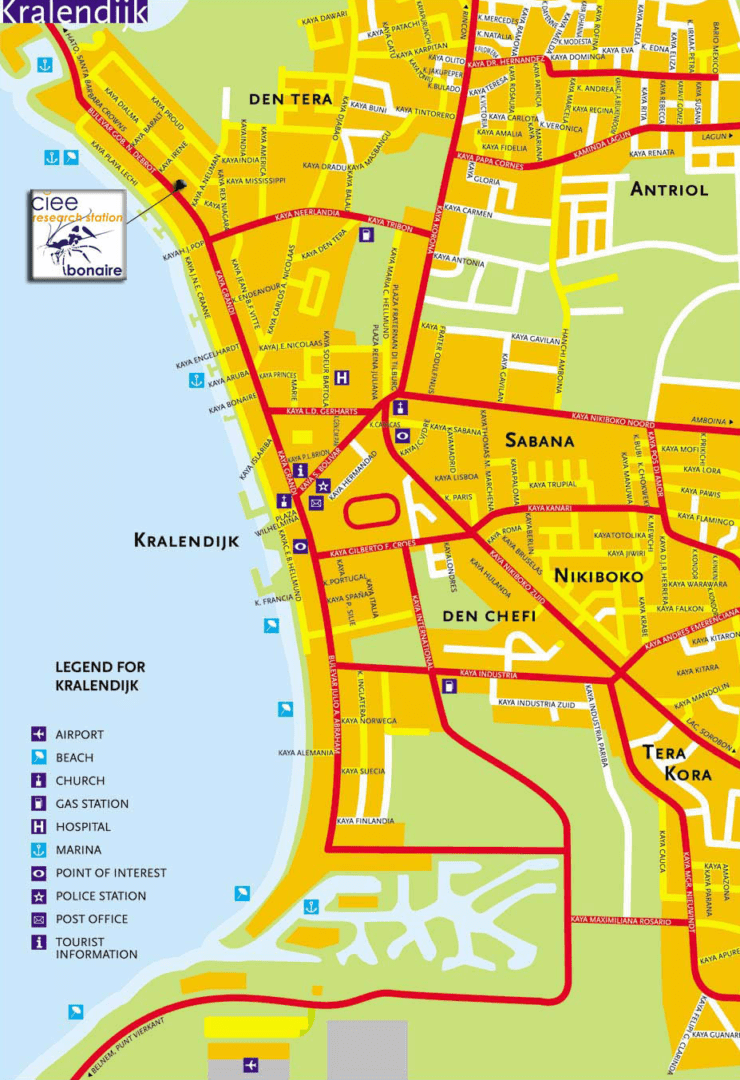 Restaurants you should try
Most restaurants on Bonaire are in the Kralendijk area, with Cuba Compagnie and La Cantina in the center and It Rains Fishes, Capriccio and At Sea just outside the center on the boulevard. But don't forget to have a taste of Bonaire at Foodies in the Sorobon area, Brass Boer at Punt Vierkant and Ingridients and Rum Runners on the dive resorts in Hato. Check here for a complete overview of our favorite Bonaire restaurants!
Beach bars to check in
Unlike for instance on Aruba, you won't find many very crowded beaches and beach bars on Bonaire. They're all quite laidback and quiet. The Sunwise team likes to go to The Hang Out Beachbar on Sundays, because they often have a DJ then. On Friday night, starting 5pm, it's Happy Hour Time on Bonaire and we like to go to Beach Club Ocean Oasis, with Ibiza-like atmospheres and the best deep house DJs! Look over here for an overview of our favorite beach bars on Bonaire!
Driving on Bonaire
It is advisable to rent a car on Bonaire, because there is so much more to see than the immediate surroundings of your accommodation and for walking it is simply too hot.
Cycling or scooter riding is also possible, but keep in mind that the roads are moderate to poor and often unlit. We don't have public transportation on Bonaire, except for a few taxis.
The traffic rules on Bonaire are slightly different than in most other countries. Only on equivalent crossings, if it is not a priority crossroad, traffic from your right has right of way. Because there are only 2 or 3 real equivalent crossings on Bonaire, it is advisable to always give right of way to traffic from the left.
Over here we have made an overview of the available means of transport on Bonaire.
Good to know!
Important phone numbers:
Ambulance: 912
Police: 911
Fire Brigade: 919
Hospital: (00599)717 89 00
Medical Center: (00599)717 71 40
Wi-Fi
Wireless internet is provided, the network settings and password can be found in the information booklet.
Climate
The average daily high temperature ranges from 29 degrees to 32 degrees Celsius, this is 84 — 89 Fahrenheit. Rainfall levels on Bonaire are very low.
Electricity
On Bonaire we have electrical current of 112-127V/50Hz. Please check the product information for your device closely.
Dress code
Dressing casual is the standard on our island, although some hotels and restaurants require 'elegantly casual' in the evenings.
Drinking water
Water supplies in Bonaire comes from desalinated and purified seawater, which puts our tap water among the purists in the world!
Sun tanning tips
Always have sun block ready, as even on overcast days. Snorkelers: think of your back!
Language
Dutch is the official language on Bonaire, but Papiamento and English is spoken by many.
Time Zone
The Bonairian time zone is -4 GMT, Atlantic Standard Time (4 hours behind Britain, 1 hour ahead of the U.S. Eastern Seaboard).
Currency
On Bonaire you can only pay with American dollars. Other currencies will not be accepted. Our guests can exchange their foreign money at the banks on the island.
Safety and security
We advise our guests to take the same basic security precautions they would take when visiting any unfamiliar place in the countries they live in. So when they leave their accommodation, they should close windows and doors and leave all valuables out of sight. When it comes to the (rental) car, it is advised to leave the doors unlocked and windows open and not to leave any valuables in the vehicle. Make sure to close a travel insurance for health and goods.
Government
Bonaire is an island that formerly belonged to the by now abrogated Netherlands Antilles, and it's, together with Curaçao and Aruba, part of the three ABC Islands. In 2010 the Netherlands Antilles disbanded, Aruba and Curaçao, like St. Maarten became partially independent countries and Bonaire, together with Saba and St. Eustatius, the BES-islands, became a special municipality of the Netherlands.
Broken or lost items
Please inform your Sunwise Bonaire manager if anything in your holiday home is malfunctioning or been broken during your stay.
Pool
The wind is always blowing on Bonaire and sometimes sandy air from the Sahara regions is taken to our lovely island. The pool is cleaned at least once a week, but we can't always prevent that sand and leaves will be blown into the water. We ask our guests to first take a quick shower and change any clothing that contains salt water, when they come out of the sea, or else the bacteriological and chemical household of the pool water will be disturbed, and the water could become green! Your Sunwise Bonaire manager will inform you on which day the pool company will come by for cleaning and maintenance, but our guests don't have to stay 'at home' for them, of course.
Garbage
We ask our guests to collect all garbage in garbage bags, before they throw them in the green containers. These garbage containers are emptied once a week and we ask our guests to roll any containers that might be behind the property's fence, outside, on the street. Your Sunwise hostess or host will inform you about the day of the week.
The garden and donkeys and goats
Please keep gates (if any) to the garden of the house or apartment complex closed at all times. Especially in the driest time of the year (January to October), wild goats and donkeys come to residential areas in search of fresh greenery.
Towels and bedlinen
Upon the arrival of our guests the beds are made, and we provide more than enough towels and fresh bedlinen for the length of their stay. Should our guests need extra linen or towels, they can ask their Sunwise manager.
Check-out time
We are always very flexible when it comes to the check-out time, but in case we have direct followers-up, these new guests may check-in from 3pm. In that case we unfortunately have to ask our current guests to check-out at 10am at the latest, because the cleaning teams need at least 5 hours to get the accommodation ready for the next guests!
Our FAQs
Of course, our teams of hostesses and hosts are available to our guests at all times to answer a wide variety of questions, but we have listed the most common questions – and the answers – here in advance.