The best villa rentals on Bonaire for a perfect Caribbean getaway
4 May 2023 by Sunwise Bonaire -

Reading time:

3

minutes
Discover the advantages of villa rentals on Bonaire. With space, privacy, and cost-effectiveness, villas offer the perfect home-away-from-home for families and groups. Sunwise Bonaire's list of top villa rentals includes properties such as Kas di Amigu and Beach house Sea You Soon, providing an unforgettable vacation experience.
If you're dreaming of a tropical vacation surrounded by crystal-clear waters and breathtaking beaches, look no further than the best villa rentals on Bonaire. Our wonderful Caribbean island paradise is known for its stunning natural beauty and diverse marine life. And the best way to experience all that Bonaire has to offer, is by renting a villa.
Why look for the best villa rentals on Bonaire?
When it comes to accommodations, villa rentals on Bonaire offer numerous advantages over resorts, condos in larger complexes and traditional hotels. Here are some reasons why you should consider a villa rental for your Bonaire vacation:
Space and comfort: The best villas on Bonaire offer plenty of space, perfect for large groups or families. You'll have multiple bedrooms, bathrooms, and living areas to spread out and relax in.
Privacy: Enjoy complete privacy, free from any disturbance from other guests, as villas offer exclusive access to your own private property.
Cost-effective: Villas can be more cost-effective than hotels, especially when traveling with a large group or for an extended period.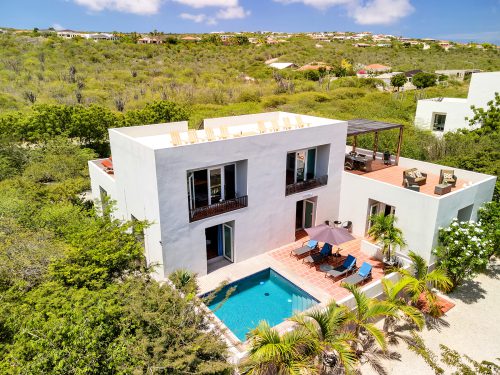 Top villa rentals on Bonaire
Kas di Amigu – This stunning villa is located in the exclusive Sabadeco neighborhood. It features four bedrooms, a nice cooling pool, and a roof terrace that provide nice views over the Caribbean Sea. The villa makes a perfect holiday rental for groups of up to eight people!
Kas Hoi – In Sabalpalm Villas, we offer this smal but cosy villa with a tropical cactus garden. The private pool and porch on the wind offer maximum relaxation for our guests! The house is located near the airport and offers easy access to the windsurf beaches at Sorobon. The small, sandy beaches of Bachelor's Beach and Te Amo Beach, are also just a few minutes away.
Beach house Sea You Soon – Situated on the nicest and quietest part of the boulevard of Kralendijk, at Kaya Playa Lechi, near all these famous restaurants on the water and, for example, Karel's Beach Bar which is built on a jetty in the Caribbean Sea.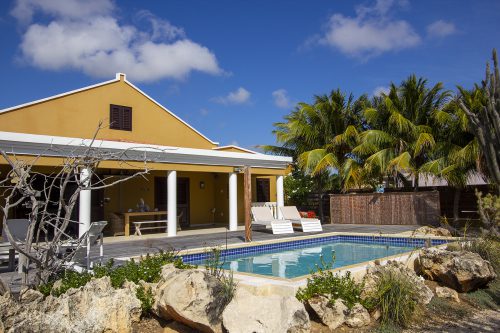 Our complete list of the best villa rentals on Bonaire
Of course, the above list is not complete. Sunwise Bonaire offers many great options for vacationers looking to rent a villa. Moreover, our exclusive selection features even more extra services. Check the Bonaire map to make sure your villa rental is close to your favorite locations on Bonaire!
Conclusion:
Choosing the right villa rental on Bonaire is key to ensuring a memorable and comfortable vacation experience. Whether you're traveling with family or friends, one of our top picks will offer the perfect blend of luxury, comfort, and privacy to make your vacation an unforgettable one. Get ready to experience the beauty and tranquility of Bonaire by booking your villa rental today!