Experience the culinary delight at Brass Boer Bonaire
Step into a world where exceptional culinary artistry meets the tranquil, alluring beauty of the Caribbean—this is Brass Boer Bonaire, a masterpiece in the world of dining. Nestled within the sumptuous confines of the Delfins Beach Resort Bonaire, this oceanfront eatery presents the dazzling culinary creations of the renowned Jonnie and Thérèse Boer, owners of the prestigious Michelin Star restaurant De Librije in Zwolle. With mesmerizing views of the pristine Caribbean Sea, this beach brasserie promises a dining adventure like no other.
Creative Cuisine Defined by Nature
The heart of Brass Boer Bonaire churns with the rhythms of a kitchen that dares to be innovative, worldly, yet deeply in sync with the island's natural bounty. Guided by a dedicated team with extensive experience from De Librije, Bonaire's cuisine is reimagined, given life anew with an fascinating twist.
The menu at the restaurant blends familiar flavors that tell tales of culinary excellence from De Librije, with an accent of local dishes infused with global influences. Whether you're in the mood for our famous 'carpaccio of pineapple with ginger, mint, and coconut', or wish to taste a local delicacy like the 'fried lionfish with atjar, rougail and puffed rice', the selection of offerings is truly diverse.
In the hands of Chef Stefan Martens, both innovative and traditional cooking techniques are used, rendering a culinary experience that treads the line between familiar comfort and exciting novelty.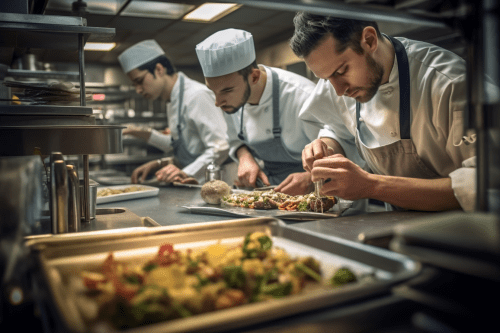 Unforgettable Sunset Dining Experience at Table 14
Take in the enchanting hues of a Caribbean sunset at Table 14, a special dining spot within Brass Boer Bonaire. It's said to be one of the most beautiful spots on the island, nestled right against the beach, washing you in a lullaby of gentle sea waves and vibrant whispers of the tropical ambiance.
At Table 14, you can immerse yourself in the exclusive Johan Cruijff arrangement, a dining experience that leaves you with more than just fond memories. Each meal here is a tribute to the Johan Cruyff Foundation's mission — supporting sports projects for children and youth worldwide. The arrangement includes a comprehensive dining experience, beginning with appetizers and champagne, followed by a 6-course dinner featuring a combination of Brass Boer Bonaire and De Librije delights. To cap the perfect dinner, $14 per person is symbolically donated to the Johan Cruyff Foundation.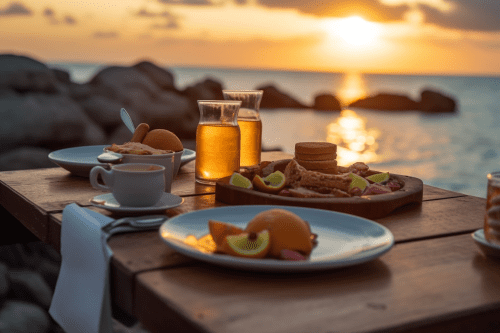 Reviews and Testimonials
The tale of Brass Boer Bonaire is best told through the words of our happy diners. Here's what one of them had to say about their dining experience at this Bonaire restaurant:
From the moment we stepped into Brass Boer, we were swept away by the exceptional service and stunning location. Each dish was a delightful surprise, a taste of the Caribbean and beyond. A must-visit on any trip to Bonaire

Elaine, Texas, USA
Practical Information
Here's what you need to know about your visit to Brass Boer Bonaire:
Opening hours:
Breakfast: 7am – 10am
Lunch: 12pm – 4pm
Dinner: 6pm – 10pm
Phone: +599 715 5050
Website: www.brassboer.com
To enhance your Bonaire experience, consider staying at the luxurious villas in Punt Vierkant to be close to the beach brasserie.
Conclusion
A journey through Brass Boer Bonaire is more than just a mere culinary experience—it's a rendezvous with the diverse flavors of the Caribbean, a moment of pure relaxation amidst Bonaire's stunning coastal scenery. Each dish tells a story, narrating tales from the world-renowned De Librije, interwoven with the culture and flavors of Bonaire. Experience it once, and you'll long to return.
Should your travels bring you to Bonaire, make your reservations at Brass Boer, and embark on a culinary voyage you won't forget.