Bonaire Attractions: Exploring the Best of Bonaire
Known for its unique charm, Bonaire is a haven for divers and snorkelers. But the allure of Bonaire goes beyond its underwater treasures. The island is a tapestry of attractions that cater to all types of travelers. From its vibrant capital to its stunning natural landscapes, Bonaire is a destination that promises an unforgettable journey. So, let's dive in and explore the best of Bonaire's attractions!
Established on February 25, 2013, Sunwise Bonaire has been managing and renting vacation homes on Bonaire, for many years. Our teams of hosts and hostesses are not just experts in hospitality, but they are also local explorers who continuously discover the island themselves. This hands-on approach allows us to provide thousands of guests each year with the most up-to-date and personalized advice about Bonaire attractions. Whether it's finding the best spot to see flamingos, recommending a thrilling land sailing adventure, or guiding you to the most serene beaches, Sunwise Bonaire's expertise ensures that every traveler gets the most out of their visit to this Caribbean paradise.
The accredited guides at Sunwise Bonaire
A number of Sunwise Bonaire's staff members have successfully completed the "Bonaire In-Depth and Guiding Skills Course". This equips them with the ability to share their narratives about the island with our visitors on par with local tour guides.
I. Wander through Colorful Kralendijk
Kralendijk, the vibrant capital village of Bonaire, is a treasure trove of experiences. This charming town is one of the key Bonaire attractions, offering a delightful blend of culture, history, and entertainment. Kralendijk is a colorful mini-city, with pastel-colored buildings, streets lined with stores and a lively boulevard. It's a place where you can feel the island's pulse and immerse yourself in its laid-back lifestyle. The town's name, Kralendijk, translates to "coral reef" in Dutch, reflecting its close ties to the sea.
Explore the Kaya Grandi
One of the highlights of Kralendijk is Kaya Grandi, the main shopping street. Here, you'll find a variety of boutiques selling everything from designer clothes to local handicrafts. It's the perfect Bonaire attraction to pick up a souvenir or two.
Discover Fort Oranje
History buffs will love exploring Fort Oranje, a historic fort that dates back to the 17th century. The fort is a testament to Bonaire's colonial past and offers stunning views of the Caribbean Sea.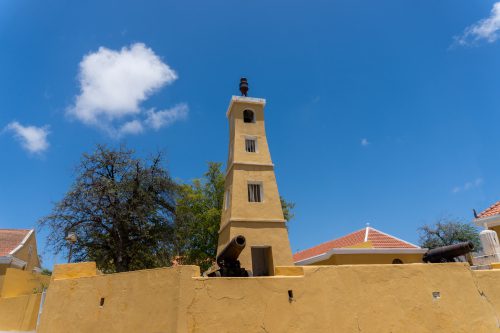 Experience the boulevard Kaya J. N. E. Craane
For a taste of Bonaire's nightlife, head to Kaya J. N. E. Craane, the boulevard of Kralendijk. This street is home to a variety of bars, restaurants and food trucks, offering everything from local cuisine to international dishes.
II. Discover the Pink Lakes and Bonaire Salt Flats
Another must-visit among Bonaire attractions is the island's southern tip. This area is known for its unique topography, featuring vibrant pink lakes and sprawling salt flats. A road trip to the south of Bonaire is an adventure in itself. The journey offers breathtaking views of the island's diverse landscapes, from its rugged coastline to its lush interior.
Witness the Pink Lakes
One of the highlights of this trip is the chance to see the pink lakes of the Cargill salt mining company. These lakes get their vibrant color from the rosy brine shrimp that inhabit them. It's a sight that's as surreal as it is beautiful, so a true Bonaire attraction!
Explore the other Landmarks in the South
The southern half of Bonaire is also home to several other attractions. These include the Willemstoren Lighthouse and the historic slave huts. Each of these landmarks offers a glimpse into Bonaire's past and its unique cultural heritage.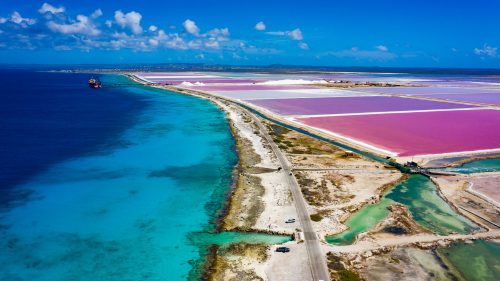 III. Spotting Flamingos, the main Bonaire attraction
Bonaire is a haven for birdwatchers, thanks to its resident flamingo population. These elegant birds are a sight to behold and are one of the key Bonaire attractions. Bonaire offers several opportunities to see flamingos in their natural habitat. These birds are known for their vibrant pink feathers and their graceful movements, making them a favorite among birdwatchers and nature lovers.
Visit Lac Bay and Goto Lake
These locations are known for their flamingo populations, offering visitors the chance to see these magnificent birds up close. Remember to keep a respectful distance and enjoy the sight of these beautiful creatures in their natural environment.
The Beauty of Flamingo Encounters
Seeing a flamingo Bonaire is a truly unique experience. These birds are not just beautiful; they're also a symbol of the island's rich biodiversity. So, don't forget to bring your camera!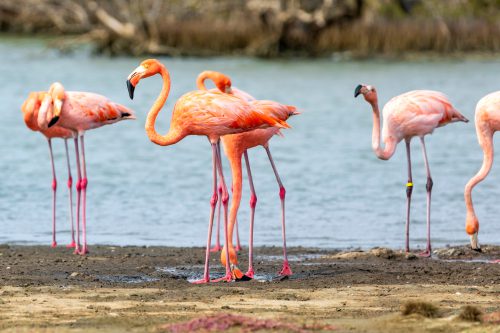 IV. Meet the animals of the Donkey Sanctuary
Nestled amidst the rugged natural beauty of Bonaire, the Donkey Sanctuary is an absolute must-visit attraction for animal lovers and families alike. Founded in 1993, this refuge provides a safe haven for hundreds of rescued donkeys, once integral to the island's operations but often abandoned with the advent of modern technology.
Feed the donkeys and learn about their history
The sanctuary offers visitors an unparalleled opportunity to interact with these charming creatures, feed them, and learn about their intriguing history on the island. Sprawled over a vast 250 acres, it is designed as an open park where the donkeys can freely roam. The sanctuary also houses a special care unit for the sick and newborn donkeys, a sight that engenders compassion.
Panoramic view towards the salt pans
Besides, a trip to the observatory deck at the sanctuary gives a breathtaking panoramic view of the vast salt pans and the brilliant blue Caribbean Sea. The Donkey Sanctuary Bonaire, beyond being a simple tourist spot, is a meaningful venture into wildlife conservation and education about the historical and cultural significance of these endearing animals.
V. Visit Cadushy Distillery and drink a cactus
Be sure to visit the Cadushy Distillery. These are three Bonaire sights that offer unique and memorable experiences.
The Cadushy Distillery is known for its unique spirits made from local ingredients. It's a great place to learn about the island's distilling traditions and sample some of its finest spirits.
VI. Milk some goats at Aletta's Goat Farm
For a taste of local life and a unique Bonaire attraction, make sure to visit Aletta's Goat Farm. This charming farm is home to a herd of goats that are lovingly cared for by Aletta. Here, you can meet the goats, see the milking process, and even taste delicious homemade goat cheese. The farm offers guided tours, allowing you to immerse yourself in the local culture and enjoy the beautiful natural surroundings. It's an experience that's both fun and educational, making it a great option for families.
Testimonials and reviews
We have lovingly curated the above list of experiences ranging from spotting our exotic flamingos to watching the captivating salt flats. We believe in transparency and authenticity, and who could describe these experiences better than our past visitors? Here, you will discover genuine reviews from those who have already embarked on these fascinating journeys. They have witnessed the stunning attractions of Bonaire and the accommodations we rent on the island. Their stories, shared in their own words, offer a window into the soul of Bonaire. They reflect our island's charm and highlight what awaits you here. As you prepare for your adventure, we invite you to explore these testimonials. They provide an honest snapshot of the unparalleled experiences you can expect when exploring the attractions of Bonaire.
We loved Villa Odessa and the nearby beautiful nature and beaches

By Resi Visser about Villa Odessa in Sabadeco
In conclusion, Bonaire's attractions are as diverse as they are captivating. From its historic landmarks and vibrant wildlife to its thrilling adventures and serene beaches, Bonaire has something for everyone. Whether you're an adventure seeker, a nature enthusiast, or a beach lover, you're sure to find your slice of paradise on this beautiful island. So, pack your bags, bring your sense of adventure, and get ready to explore the best of Bonaire's attractions!