Jibe City Bonaire: Exploring A Windsurf Paradise in the Caribbean
3 June 2023 by Sunwise Bonaire -

Reading time:

3

minutes
Discover the windsurfing paradise of Jibe City Bonaire, offering windsurf lessons, equipment rentals, Beach Studio Spock accommodations, and Hang Out Beachbar.
Jibe City Bonaire is a renowned windsurf center on the beautiful island of Bonaire, in the Caribbean. This paradise offers an unforgettable experience for windsurf enthusiasts, providing top-notch facilities as well as leisure accommodations to cater to every visitor's needs. In this article, we will delve into the world of Jibe City, looking at its windsurfing opportunities, accommodations, and vibrant beach bar.
Jibe City Bonaire: A Windsurfing Haven
Jibe City Bonaire is the perfect destination for those wishing to undertake a windsurfing adventure in the Caribbean. Their offerings include:
Windsurf lessons catering to all skill levels.
Rental services for windsurf equipment and SUP boards.
Short-term and long-term storage options.
Indeed, Jibe City sets itself apart by maintaining a large rental center and a small windsurf school. This ratio ensures personalized attention and quality instruction for every visitor. Moreover, the steady wind conditions in Bonaire guarantee consistent availability of lessons and optimal windsurfing experiences.
Windsurf Lessons for Everyone
Whether you're a seasoned windsurfer or a complete newbie, Jibe Bonaire has you covered. Their experienced instructors offer lessons tailored to each individual's abilities and pace. With their one-on-one coaching, you'll feel empowered to conquer the waves and become a windsurfing master.
Equipment Rentals and Storage
Jibe City Bonaire features an extensive range of windsurf equipment and SUP boards available for rent. The rental center is well-equipped to address the needs of different skill levels and preferences. Accordingly, visitors can choose from various boards and sails to suit their individual requirements.
For those traveling with their own gear, Jibe City offers short-term and long-term storage options for keeping equipment safe and secure during your stay.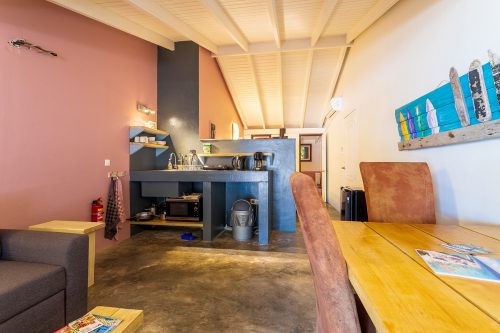 Accommodation at Jibe City: Beach Studio Spock
Located at Lac Bay, one of the world's top windsurfing locations, Beach Studio Spock offers a perfect blend of comfort and convenience. This cozy accommodation is ideal for windsurf enthusiasts visiting Jibe City Bonaire.
Featuring a capacity to house up to three guests, the studio apartment includes:
A bedroom with comfortable bedding.
A living room with a sofa bed.
A communal porch for relaxation.
Moreover, studio guests enjoy direct lagoon entry, free Wi-Fi, and air conditioning. Though the studio doesn't have a hot water heater, the lukewarm tap water is perfect for a refreshing shower after a day under the sun.
Best of all, Beach Studio Spock is just a minute's walk away from the beach, and windsurf classes and board rentals are readily available on the premises.
Hang Out Beachbar: The Perfect Chill Spot
After a thrilling day of windsurfing at Jibe City, the Hang Out Beachbar is the ideal place to relax and unwind. This popular beach destination offers a well-stocked bar, a new open kitchen serving delicious food, and comfortable beach beds and lounges.
Delectable Food and Drinks
The Hang Out Beachbar serves a mouthwatering variety of sandwiches, salads, and chef's specials, catering to diverse tastes. Paired with an assortment of refreshing beverages from the bar, the culinary experience at the Hang Out Beachbar is second to none.
A True Caribbean Vibe
The name "Hang Out" traces back to its origins when only windsurfing trapezes hung from the bar, thus creating a unique hangout spot for beachgoers. Now, the bar's vibrant Caribbean atmosphere offers the ultimate laid-back experience for visitors.
Open from Monday to Sunday, the Hang Out Beachbar hosts extended hours on Thursday for the Table BBQ event, as well as on Sunday for live music sessions.
The Jibe City Experience: More than Just Windsurfing
Jibe City Bonaire offers a comprehensive experience that goes beyond windsurfing. Combining the adrenaline-pumping sport with comfortable accommodations and a lively beach bar allows for a truly unforgettable Caribbean adventure.
Staying at the Beach Studio Spock and chilling at the Hang Out Beachbar adds to the overall Jibe City experience. Regardless of your windsurfing prowess, Jibe City Bonaire guarantees an unparalleled getaway in a picturesque tropical paradise.
So, pack your bags and get ready to jibe in the city of windsurf, Bonaire!