For Sale Bonaire: Kas Linde Villa in Water Villas Bonaire Resort
1 June 2023 by Sunwise Bonaire -

Reading time:

2

minutes
For sale: Kas Linde, a luxurious 3-bedroom villa in Water Villas Bonaire Resort, located on the Laguna Marina. Offers a private pool, jetty, and allows various rental options. Asking price $625,000, excluding closing costs.
UPDATE: SOLD!
Welcome to Kas Linde, a unique and luxurious villa located in the Water Villas Bonaire resort, on the water of the Laguna Marina. This villa is part of a financially healthy Homeowners Association (HOA Bahia) and is one of the few properties on the island of Bonaire that allows long-term rentals, vacation rentals, and permanent residences.
Asking Price: $625,000 excluding closing costs
Kas Linde is a six-person villa featuring three bedrooms, each with en-suite bathrooms. One of the bedrooms upstairs has a small balcony overlooking the Laguna Marina, Kralendijk's artificial lagoon. The villa also boasts a private pool and a private jetty for a small boat, providing direct access to the water.
The villa is equipped with all the modern amenities you would expect, including free Wi-Fi and air conditioning in the bedrooms. The kitchen is well-equipped, and the living room overlooks the veranda, with a pool on the water.
Location
Kas Linde is located just a few hundred meters from the famous Te Amo Beach and Donkey Beach. It is only 5 minutes by car to the center of Kralendijk, where you can find some of the best restaurants on the island. For windsurfers and kiteboarders, it is only 10 minutes south towards Sorobon and Atlantis Beach.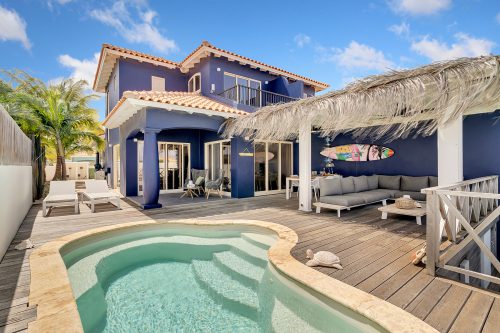 Laguna Marina
Water Villas Bonaire is a walled, barrier-enclosed, luxury residential development on the waterfront of the Laguna Marina. It is a unique location that offers a quiet and exclusive living environment. The marina of the adjacent Ocean Breeze resort is conveniently located to downtown Kralendijk and popular beaches.
Viewing and Purchase
The villa will be available for transfer of ownership after March 1, 2024. Showings can be done via Zoom or in person, but always only at the moments there are no vacationers in the villa, so in consultation with Sunwise.
This is a rare opportunity to own a piece of paradise in Bonaire. Don't miss out on this unique opportunity to invest in a property that offers both a luxurious lifestyle and a profitable rental income.
For more information or to schedule a viewing, please contact us.
More pictures and information
Sunwise Bonaire has been managing Kas Linde for quite some time and of course we have extensive operating overviews available for interested parties. An extensive series of photos can be found on Kas Linde's vacation rental page. Due to the sale, we have closed the booking calendar after March 1, 2024.
Please note that all information is provided in good faith and is subject to change without notice.