Bonaire Map, exploring Bonaire through our map
25 April 2023 by Sunwise Bonaire -

Reading time:

4

minutes
The Bonaire Map offers guests of our island an excellent overview of all the beauty Bonaire has to offer.
Bonaire's stunning marine life, pristine tiny beaches, and vibrant culture are well-known. This article, centered around the Bonaire map, aims to guide you through the best diving locations, restaurants, beach bars, landmarks, nature, vacation rentals, and attractions. Let's dive into the ultimate experience for your Bonaire vacation, through this geographical representation! You can find the Bonaire map by clicking the image halfway through this article. Or you could just go to the Google Maps box underneath this blog post. You can zoom in and out on that map by using your mouse wheel or pinching. The legend can be opened by clicking on this icon:

The explorer teams of Sunwise Bonaire
Navigating the captivating island of Bonaire is an adventure in itself, and at Sunwise Bonaire, we're proud to have mastered every twist and turn on this tropical paradise. Having lived here since 2013, after first falling in love with Bonaire in 2008, we have trekked across every inch of the island and navigated all its routes, both the well-trodden and the hidden ones. Our experienced teams of hosts and hostesses are always exploring and updating their knowledge about the island, its evolving venues and myriad activities. They have their fingers on the pulse of Bonaire, readily guiding our guests to the best and most intriguing spots. Our map isn't just geographical—it's a rich tapestry of culinary, cultural, and adventure experiences, tailored to enhance each guest's vacation. At Sunwise Bonaire, we don't just point the way, we pave the path to unforgettable island memories.
The best dive spots on the Bonaire map
Bonaire is a diver's paradise, boasting crystal-clear waters and thriving marine life. Can you find these three top diving spots on the Bonaire map?
Klein Bonaire: A small, uninhabited island with beautiful coral reefs and abundant marine life.
Bari Reef: Known for its diverse fish population, this site is perfect for underwater photography.
Salt Pier: Dive under this iconic structure to discover a thriving ecosystem of fish and corals.
These top restaurants are on the map too
Savor the island's culinary delights at these three must-try restaurants, or one of all the others you can find on the map:
At Sea: This award-winning restaurant offers a mix of local and international dishes using fresh, locally-sourced ingredients.
Capriccio: An Italian gem, Capriccio serves delicious pasta, seafood, and a variety of delectable desserts.
Sebastian's Restaurant: Enjoy stunning views of the Caribbean Sea while indulging in a fusion of international and Caribbean flavors.
How about these beach bars to relax in?
Unwind at these beach bars, each with a unique atmosphere and spectacular views. Are you able to find these three on the Bonaire map?
Karel's Beach Bar: A lively spot situated on a pier, offering live music and a wide variety of drinks.
Hang Out Beach Bar: This laid-back bar features hammocks, beach chairs, and delicious cocktails, perfect for a lazy afternoon.
Club Tropicana: With its white sand and crystal-clear water, Club Tropicana on the Delfins Beach Resort is the ideal place to sip a cocktail and soak up the sun.
The must-see landmarks on Bonaire are included too
Don't miss these iconic landmarks on our Bonaire map:
Washington Slagbaai National Park: Explore the park's diverse landscape, ranging from cacti forests to salt flats, and spot the island's unique wildlife.
Pekelmeer / Flamingo Sanctuary: Witness thousands of flamingos in their natural habitat at this protected reserve.
Willemstoren Lighthouse: Built in 1837, this historic lighthouse offers stunning panoramic views of the island.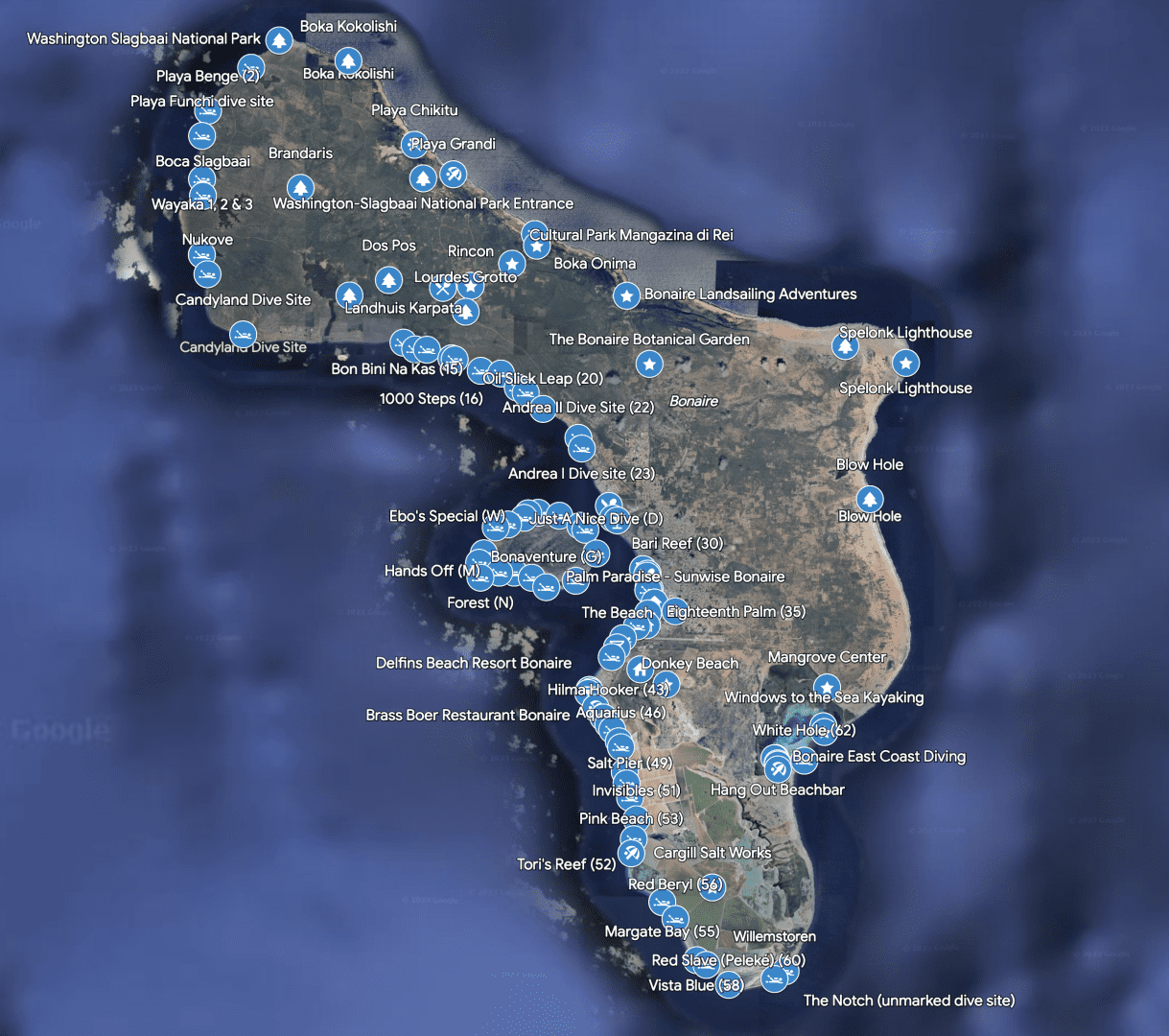 Nature experiences on the Bonaire map
Bonaire's natural beauty is not to be missed. Can you find these three examples?
Lac Bay: A windsurfing paradise, this mangrove-filled bay also offers excellent opportunities for kayaking and snorkeling.
Brandaris: This highest point on the island requires some effort to climb, but the reward is breathtaking!
Mangrove Forest: The mangrove forest on Bonaire is unique and amongst the best preserved in the region.
Vacation rentals Bonaire
For a comfortable stay, consider these vacation rental options, or check Sunwise's extensive collection of villas and apartments:
Villa Verde: 12 zeer luxe appartementen, centraal gelegen aan het water, met uitzicht op de Caribische Zee.
Palm Paradise: Along the saliña in Tera Kòrá are 49 very luxurious apartments spread over three floors and seven buildings. The offer consists of two- and three-bedroom apartments.
Bonaire Beach Apartments: Sixteen very luxurious apartments within walking distance of Chachacha Beach and the boulevard of Kralendijk.
Wrap Up your Bonaire Map
Armed with this ultimate Bonaire map, you're ready to explore the island's top attractions and hidden gems. Remember to take advantage of the island's natural beauty, vibrant culture, and world-class diving opportunities. Follow these bonus tips and make the most of your Bonaire adventure:
Plan your trip around the island's major events, such as the Bonaire Dive Week or the Bonaire Sailing Regatta, for a more immersive experience.
Rent a car, scooter, or bike to easily explore the island and discover off-the-beaten-path spots.
Try local cuisine, including Bonaire's famous stoba kabritu (goat stew) and fresh seafood dishes.
As you embark on your Bonaire journey, let the Bonaire map be your guide to a memorable Caribbean experience. Dive into the island's crystal-clear waters, soak up the sun on pristine beaches, and savor the local flavors as you create unforgettable memories on this beautiful island.