Unraveling the Bonaire Dive Sites Map: a journey through underwater wonderland
28 April 2022 by Sunwise Bonaire -

Reading time:

3

minutes
Discover the Bonaire dive sites map and embark on a journey to explore the breathtaking underwater world of this Caribbean paradise. Sunwise Bonaire offers practical tips and vacation rentals strategically located near dive sites to help you make the most of your adventure.
An invitation to Bonaire's underwater treasures
Have you ever daydreamed about diving into crystal-clear waters and swimming among vibrant marine life? Well, let me tell you about the time I discovered the Bonaire dive sites map and embarked on a journey to explore the breathtaking underwater world of this Caribbean paradise.
Getting to know the Bonaire Dive Sites Map
When we first laid eyes on the Bonaire dive sites map you can find online, we were amazed by the sheer number of locations it displayed. So, we decided to categorize the dive sites by region (N, W, E and S) and possibilities (C, B and S), to make your Bonaire underwater adventure more manageable. You can find the Bonaire dive sites map by clicking the image halfway through this article. Or you could just go to the Google Maps box underneath this blog post. You can zoom in and out on that map by using your mouse wheel or pinching. The legend can be opened by clicking on this icon:

Regions
Northern Dive Sites: Rugged and remote, offering a serene experience
Western Dive Sites: Easily accessible and teeming with marine life
Eastern Dive Sites: Known for challenging conditions and unique landscapes
Southern Dive Sites: Home to salt pans, shipwrecks, and diverse habitats
Klein Bonaire Dive Sites: Home to pristine reefs, larger sea life and drift dives
Possibilities
C: Accessible by Car
B: Reachable by Boat
S: Also an excellent Snorkeling spot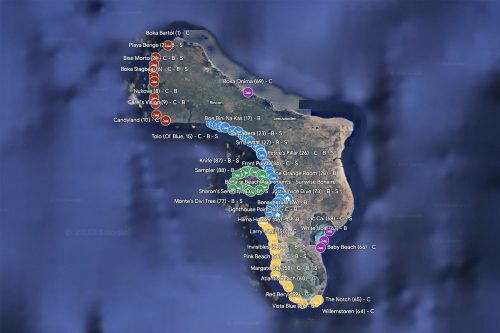 My Top 5 from the Bonaire Dive Sites Map: a personal selection
As I explored the Bonaire dive sites map, I was drawn to these five incredible locations, and these are still among my personal favorites:
Karpata: The first time I visited Karpata, I was struck by its stunning coral formations and dramatic underwater landscape. The site's remoteness made me feel like a true underwater explorer.
1,000 Steps: Don't let the name scare you – it's worth the effort! With each step, I felt more connected to the natural beauty surrounding me, and the dive itself? Absolutely unforgettable.
Hilma Hooker: Exploring this shipwreck was like diving into history. Swimming through the wreckage, I marveled at the marine life that had claimed it as their home.
Salt Pier: Night diving at Salt Pier was a magical experience. The pier's pillars attracted a mesmerizing array of nocturnal sea creatures, creating a surreal underwater spectacle.
Klein Bonaire: Just off the western coast, Klein Bonaire's pristine waters are a haven for marine life. Drift diving here allowed me to effortlessly glide past beautiful coral gardens and curious sea turtles.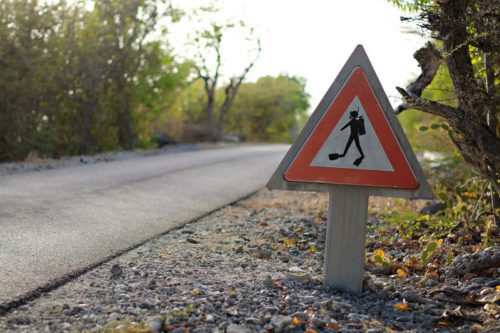 Actionable insights: tips for your Bonaire diving adventure
To make the most of your Bonaire dive sites map experience, consider these practical tips:
Plan your dives: With so many options, it's essential to prioritize your must-see dive sites.
Choose the right dive operator: Opt for a reputable operator with experienced guides who know the local sites.
Respect the Bonaire Marine Park rules: Abide by the park's regulations to ensure the preservation of this underwater paradise.
Go at your own pace: Bonaire offers diving experiences for all skill levels, so don't be afraid to take it slow and build your confidence.
Vacation rentals that are a perfect base for your diving adventure
One of the best ways to maximize your Bonaire diving experience is by staying at a vacation rental managed by Sunwise Bonaire. Strategically located near the great dive locations on the Bonaire dive sites map, these rentals offer you the perfect home away from home while you explore the underwater wonders of the island. With a variety of options to suit every budget and preference, you'll enjoy the convenience and comfort of being just moments away from your next dive adventure.
Conclusion: a journey worth taking
My adventure with the Bonaire dive sites map opened up a world of underwater wonders that I'll never forget. If you're ready to dive into your own Caribbean adventure, start exploring the Bonaire dive sites map today and let the magic of this underwater paradise captivate you.