RESTAURANT CHEFS Bonaire
It's all about good food
And, food brings people together, to meet and greet and enjoy an intimate, culinary experience. That is the creed of the two chefs in Chefs Bonaire, Han and Mark.
How does dining at Chefs work? Well, after a warm welcome at 7pm, the chefs are there to personally accompany their guests to their seats. Those are very comfortable bar seats, placed in a surprising setting with a cosy, relaxed atmosphere.
All 16 guests, not per see belonging to the same group, are on the U-shaped bar, so at the same time, this is a nice chance to meet new people and share (Bonaire) stories and adventures.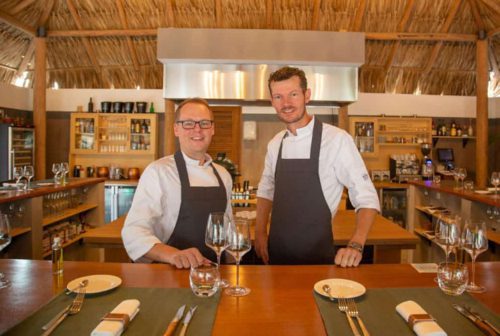 So in short: an evening at Chefs Bonaire, at the Bamboo Bali Resort, is an exquisite evening, to fondly remember and talked about for a long time after.A place where the chefs not only create culinary masterpieces, but will serve them to you personally as well.
Let the chefs take you on an adventure where they listen to your needs, but will surprise you all the same. They will set the menu and of course they will pay attention to any food or allergy restrictions of their guests.
Their wines complement the courses in a carefully selected wine flight, but the guests are of course allowed to select wines themselves.
Additional information
Opening hours: Thursday to Monday, from 7pm. Telephone reservation can be made at number +5997177520 or at their website.
Where exactly can I find Chefs Bonaire?
On the menu: only dinner, fresh fish, local and overseas products, dishes from all over the world