Climb the Brandaris Bonaire
Highest island point
De Brandaris Bonaire is a 241 meter high mountain (or hill if you like) in the Washington Slagbaai National Park and the top of the mountain is the highest point of our island. The Subí Brandaris Bonaire Trail is a 45-minute walk to the top. This is a climb with an average difficulty, but the view from the top is really a sublime reward for making this hike. On a clear day you can even see Curaçao and on exceptionally clear days, you can even see the Santa Ana Hill on the Paraguaná peninsula of Venezuela and the mountains south of Puerto Cabello, also in Venezuela!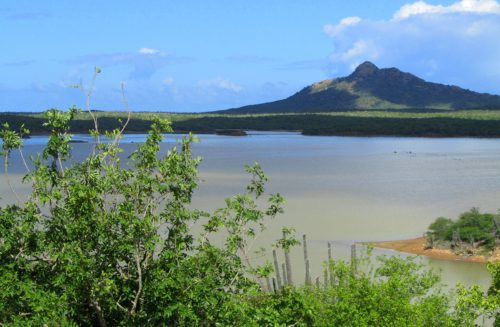 You need a car!
Unlike the other trails, the path Subí Brandaris does not start in the visitor center of the park, so you need a vehicle to enter the park and drive to the base of the mountain. Please note: Hikers to the Brandaris must be in the park before noon.
Info
Where exactly can I find Brandaris Bonaire?
What our guests say
This hike, or better said 'climb', was a lot of fun, just like Debby predicted! The first part of the trail is along the road, but that's about as close to hiking as it gets… Once we started to climb up the mountain – or maybe we should call it an oversized hill 🙂 – we couldn't find something that looked like trail at all: we were just jumping from rock to rock. But there were trail markers along the way though, so we could still easily figure out which way to go. The climb is short and there are two places at the top to enjoy the beautiful views. It is great fun if you are in good shape and if you wear hiking boots or other suitable footwear. We advise the other Sunwise guests to plan to arrive early to avoid the burning afternoon sun. After the climb, we took a scenic drive through the park and we stopped along the way to snorkel at the various beaches located inside the park. The long route is best but remember the roads are dirt roads and you need an off road vehicle to get into the park in the first place and cruise comfortably. If you just drive through the park, it will take about an hour and fifteen minutes. To make the most of the park, bring along a picnic lunch and make a day of it. Hike, snorkel, swim, and sightsee. Inside the park there is only one place to get food and use the restrooms so plan accordingly. And most of all: have fun!!
Climbing the Brandaris Bonaire, surely is a fun thing to do!