For Sale Bonaire: Apartment Flamboyant near Hamlet Oasis Resort
17 July 2023 by Sunwise Bonaire -

Reading time:

4

minutes
For sale: Apartment Flamboyant, a lovely 2-bedroom apartment in Hamlet Oasis Bonaire Resort, located on the Caribbean Sea. Asking price $359,000, excluding closing costs.
Welcome to Apartment Flamboyant, a stunning apartment for sale, located near the serene Hamlet Oasis Resort on Bonaire. This property is a perfect blend of comfort, convenience, and luxury, offering a unique opportunity to own a piece of paradise in the Caribbean.
Asking Price: $359,000 excluding closing costs
Existing bookings should be carried over at all times
The apartment spans a generous 160 square meters (12.6×12.6 meters), including two spacious porches, providing ample space for relaxation and entertainment. It features two bedrooms, each equipped with built-in wardrobes, and two bathrooms, offering the perfect setting for a family or a couple seeking a tranquil retreat. The apartment also includes a utility closet and a private owner's closet, providing additional storage space.
Every room in the apartment, including the porches, is air-conditioned, ensuring a comfortable living environment all year round. The apartment was updated in 2022 and is fully screened, offering added convenience and comfort.
The property is set on a 731 square meter plot of long lease land (long lease rights until 01-08-2037), featuring a beautifully landscaped garden with plenty of shade, perfect for enjoying the tropical climate.
As part of a homeowners association, the apartment represents 1/6 of the ownership, with annual costs of $1,200. This covers the long lease for the garden, building insurance, and minor maintenance. The apartment also includes access to the Hamlet Oasis swimming pool for an annual fee of $650.
The apartment comes with a rented parking space ($250 per year) within the Hamlet Oasis Resort and offers access to the sea, perfect for those who enjoy snorkeling or diving.
This apartment is more than just a home; it's an investment in a lifestyle of relaxation, adventure, and the warm hospitality of Bonaire. Don't miss this opportunity to own a piece of this tropical paradise.
Location
Apartment Flamboyant is located just hundred meters from the azure Caribbean Sea and – for instance – the Hamlet Oasis branch of Dive Friends Bonaire. It's only 200 meters away from the closest supermarket and the boulevard of Kralendijk, where you can find some of the best restaurants on the island, starts at 1,800 meters from the apartment. For divers and snorkelers, there are lots of great sites in the direct surroundings.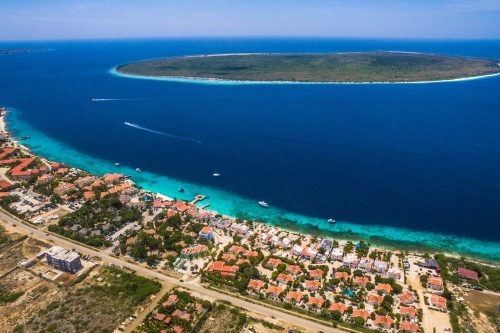 Hamlet Oasis
Nestled in the heart of the Caribbean, the Hamlet Oasis Resort on Bonaire offers a tranquil retreat for those seeking a unique vacation experience. This resort is a haven of relaxation, featuring lovely apartments and cottages, surrounded by lush tropical gardens and just steps away from the azure sea. Each accommodation is designed to provide guests with a sense of privacy and independence, making it an ideal choice for families, friends, couples, or solo travelers.
At Hamlet Oasis, the choice of how to spend your time is entirely yours. You can explore the vibrant underwater world by snorkeling or diving, sunbathe by the refreshing magnesium pool, or simply enjoy the warm sunshine and serene surroundings. The resort is also conveniently located close to the charming town of Kralendijk, allowing you to easily explore the local culture and cuisine.
The resort has received high praise from guests, with an average rating of 4.4 out of 5, demonstrating its commitment to providing exceptional service and a memorable stay. The Hamlet Oasis Resort is not just a place to stay; it's a place to call home during your unforgettable Caribbean getaway.
Apartment Flamboyant, located within the resort, offers potential buyers the opportunity to own a piece of this tropical paradise. It's more than just a property; it's an investment in a lifestyle of relaxation, adventure, and the warm hospitality of Bonaire.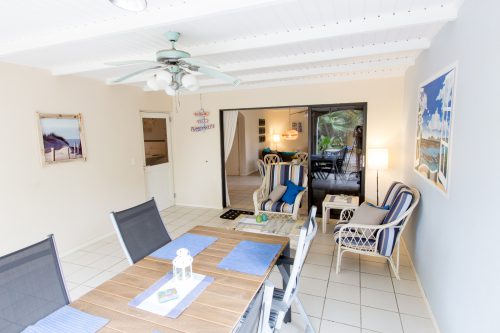 Viewing and Purchase
The date of transfer of ownership to the buyer, will be determined in consultation with the seller. The seller is flexible about this. Showings can be done via Zoom or in person, but always only at the moments there are no vacationers in the apartment, so in consultation with Sunwise.
This is a rare opportunity to own a piece of paradise in Bonaire. Don't miss out on this unique opportunity to invest in a property that offers both a luxurious lifestyle and a profitable rental income.
For more information or to schedule a viewing, please contact us.
More pictures and information
Sunwise Bonaire has been managing Apartment Flamboyant for quite some time and of course we have extensive operating overviews available for interested parties. An extensive series of photos can be found on Apartment Flamboyant's vacation rental page.
Please note that all information is provided in good faith and is subject to change without notice.