Bonaire News: latest updates and developments for guests
27 April 2023 by Sunwise Bonaire -

Reading time:

2

minutes
Stay up to date with the latest Bonaire News for an unforgettable vacation experience. Sunwise shares up-to-date information on a variety of issues.
Bonaire, our beautiful little island in the Caribbean, is a paradise for tourists. To make your vacation on Bonaire smooth and memorable, it's important to stay up to date with the latest Bonaire News. In this article you will discover everything you need to know as a guest of Bonaire, with tips and recommendations for a great travel experience. In Sunwise's news blogs, we provide as much up-to-date information as possible on:
1. Tourism and Sightseeing
Bonaire News brings you the latest information on:
Trends in tourism: the latest hotspots and activities on Bonaire
New attractions and activities
Current travel tips: how to plan an unforgettable vacation with recent developments in mind
Once when we first visited Bonaire, we were delighted by the Bonaire news that warned of an approaching tropical storm. Although that was not the most pleasant prospect, this update allowed us to prepare. In the end, the storm passed over the island and there was nothing to worry about.
2. Culture and Events
The Bonaire News keeps you up to date on:
Upcoming traditional festivals: experience local culture and celebrations as a guest
Soon-to-be-scheduled events and festivals: find out what's going on during your stay
Non-permanent exhibitions: explore Bonaire's rich art world
3. Sustainability and Ecotourism
It's essential to travel sustainably. Bonaire News informs you about:
Latest developments in ecotourism: how to enjoy our nature responsibly
Protection projects launched: initiatives to preserve flora and fauna, including our coral reefs
Initiatives to contribute: some diving schools organize regular reef clean-ups that our guests can participate in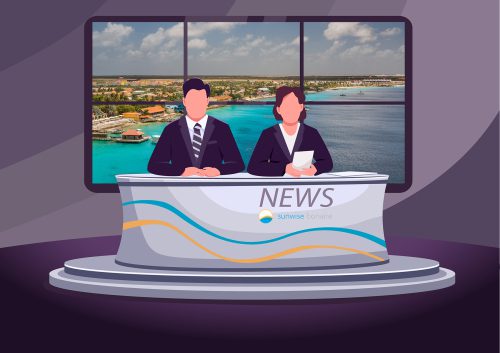 4. Adventure and Outdoor Activities
Bonaire offers countless adventures. The Bonaire News shares:
5. Local Gastronomy
Feast on the latest local cuisines, thanks to Bonaire News:
New restaurants: once Sunwise's teams have been somewhere, they report back
Recurring or one-time culinary events: we post about tastings and festivals to attend
6. Accommodations and Transportation
Bonaire News reports on perfect places to stay and transportation:
Latest accommodations: from luxury villas to budget options, we report on new 'listings'
Transportation: tips on especially new car rental companies with high-end fleets
Conclusion
Staying up to date with the latest Bonaire News will help you get the most out of your vacation on our beautiful island. Whether you're looking for culture, adventure or relaxation, there are new developments on Bonaire on a regular basis. Don't forget to check the news regularly even during your stay, for the very latest updates.
So, what are you waiting for? Start planning your dream Bonaire vacation and don't forget to keep a close eye on the latest Bonaire News from Sunwise. Experience the beauty and diversity of this island and make memories you will cherish forever. Have fun and an unforgettable time on Bonaire!