Exploring the Beauty of 1000 Steps Bonaire Diving
3 June 2023 by Sunwise Bonaire -

Reading time:

4

minutes
Discover the beauty of 1000 Steps Bonaire diving, an unforgettable underwater experience with stunning views and diverse marine life. Dive into adventure!
Bonaire is our stunning Caribbean island known for its crystal-clear waters, vibrant coral reefs, and abundant marine life. It has long been a popular destination for scuba diving enthusiasts. One of our island's must-visit dive sites is the beautiful 1000 Steps Beach. In this article, we will explore the beauty of 1000 Steps Bonaire diving and provide tips and recommendations to help you make the most of your experience.
Overview of 1000 Steps Bonaire Diving
Located on the northwest coast of Bonaire, 1000 Steps Beach is easily accessible by car. The beach derived its name from the picturesque limestone staircase with 67 steps leading visitors down to the sandy shoreline. While the number of steps may be exaggerated, the breathtaking views and turquoise waters are certainly worth the descent.
Accessing the Beach
Once you have parked your car, climb down the limestone staircase to reach the beach. As you descend, take in the stunning views of the Caribbean Sea stretching out before you. The steps themselves can be a bit slippery, so it's essential to wear appropriate footwear and use caution when navigating.
The Beach and Surrounding Area
1000 Steps Beach features a narrow strip of white sand, lined with beautiful coral rock formations. The waters are crystal clear, with shades of turquoise and blue that will be etched in your memory for years to come. The beach is relatively secluded, making it a perfect getaway from the bustling tourist hotspots.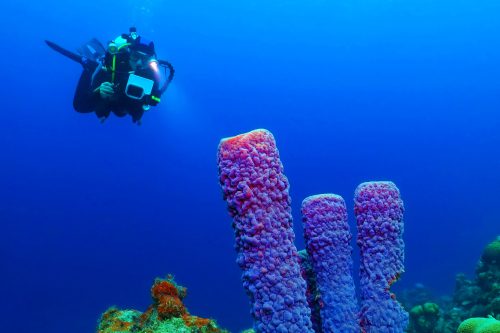 Diving Experience at 1000 Steps Beach
1000 Steps Beach offers a unique and unforgettable diving experience. The underwater environment is teeming with marine life, vibrant coral reefs, and diverse tropical fish. Let's dive deeper into what makes this dive site so special.
Underwater Environment and Marine Life
The 1000 Steps dive site begins as a gentle slope from the shoreline, leading to a stunning drop-off with depths ranging from 30 to 100 feet (9 to 30 meters). The clear waters provide excellent visibility, often up to 100 feet (30 meters).
Throughout your dive, you will encounter an array of colorful corals, including brain coral, lettuce coral, and elkhorn coral. As you explore the reefs, look out for various tropical fish and marine creatures such as angelfish, butterflyfish, parrotfish, sea turtles, tarpon, and even the occasional nurse shark.
Dive Conditions and Suitability
1000 Steps Bonaire diving is suitable for divers of various skill levels. The dive site boasts mild currents and offers a generally safe diving experience. However, it's essential to be mindful of the entry and exit points – navigating the limestone steps with your dive gear can be a bit challenging.
Snorkeling at 1000 Steps Beach
In addition to scuba diving, 1000 Steps Beach also offers excellent snorkeling opportunities. The shallow waters near the shore are perfect for those looking to explore the underwater world without diving deeper.
Abundant Marine Life for Snorkelers
Snorkelers can expect to see a wide variety of fish and other marine creatures at 1000 Steps Beach. Some of the species you may encounter include tangs, trumpetfish, needlefish, and even turtles if you're lucky.
Clear Waters and Underwater Beauty
The excellent visibility at 1000 Steps Beach allows snorkelers to enjoy a glimpse of the colorful coral reefs without having to dive deep. The varying shades of blue and turquoise create a mesmerizing and unforgettable underwater experience.
Night Diving and Other Activities
1000 Steps Beach offers more than just daytime diving; the site is also popular for night diving. Let's discuss why divers choose to visit this spot after the sun goes down.
Night Diving at 1000 Steps Bonaire
For a truly unique underwater experience, consider diving at 1000 Steps Beach after sunset. The nocturnal marine life adds an extra layer of mystery and excitement to the dive. Creatures such as octopuses, lobsters, and bioluminescent organisms illuminate the underwater world.
Other Activities
In addition to diving and snorkeling, visitors to 1000 Steps Beach can explore the surrounding area. The rocky formations and secluded location make it an ideal spot for beachcombers and nature lovers.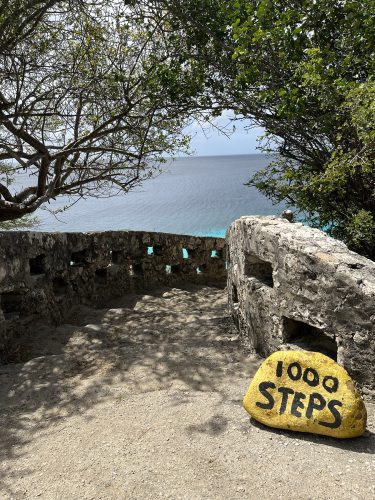 Tips and Recommendations
To help you make the most of your trip to 1000 Steps Bonaire diving, here are some practical recommendations and suggestions.
Best Time to Dive
The climate in Bonaire is generally warm and sunny, making it possible to dive throughout the year. However, the island's peak dive season typically runs from December to April – when visibility and sea conditions are at their best.
Equipment Requirements and Safety
When diving at 1000 Steps Beach, be prepared with your dive equipment, certification card, and a buddy. Also, remember that the limestone steps can be slippery, so sturdy footwear is recommended for entering and exiting the water.
Accommodations and Services for Divers
When planning your trip to Bonaire, consider staying at a diver-friendly accommodation such as Villa Pulpoloco. This beautiful villa offers stunning sea views, a private pool and terrace, and convenient amenities for divers such as rinse tanks, outdoor showers, and storage for dive gear. Moreover, it's located in proximity to numerous shoreline dive sites, including 1000 Steps Beach, Karpata, and La Dania's Leap.
Conclusion
1000 Steps Bonaire diving offers an unforgettable underwater experience for divers and snorkelers alike. The stunning beauty and diverse marine life make it a must-visit destination for all scuba enthusiasts. Follow our tips and recommendations to ensure a memorable and enjoyable dive at 1000 Steps Beach – and embrace the magic of Bonaire's underwater world.