Cecile and Simon of Sunwise Bonaire
Laidback and untouched nature
When Simon and I moved to Bonaire in 2014, we fell immediately in love with the island – just like many of our guests experience too. What we hear very often: whether you fall for this island at first sight, or you do not like it at all. The people in the latter category are often lovers of shopping, a lively nightlife and high-rise buildings with landscaped beaches. The guests who love peace and unspoilt nature – under or above water – and of non-motorized sports such as kiteboarding, windsurfing, diving and snorkeling, like us, love this Caribbean paradise. It is therefore that the slogan of the Tourism Corporation Bonaire is 'Once a Visitor, Always a Friend'!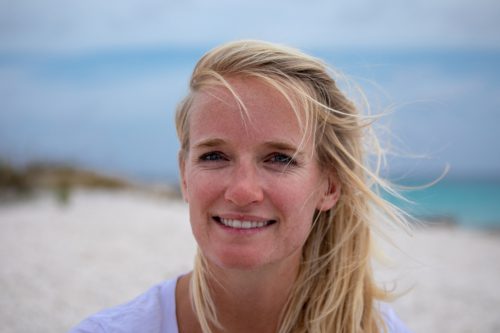 Management of holiday homes
We came to enjoy Bonaire, right after our respective studies and we we got acquainted with
property management through Sunwise Bonaire. The charms of this business, almost always happy people, despite sometimes long flights and having a share in a great holiday of our guests, attracted us immediately.
Debby and Ron have familiarized us with this lovely profession and as a team Simon and I are always there for our guests. Our passion for the island – and for example kitesurfing that we both like to do – is something we try to convey to our guests. We are delighted to welcome people to 'our' island, tell them about the most beautiful places and the best activities to do and help them to have a fantastic holiday.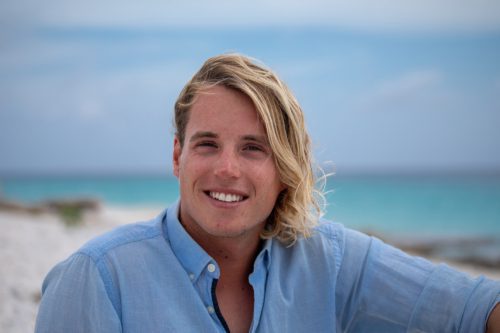 Completely carefree
Under the wings of Sunwise, Simon and I are a team for our guests. Well before the arrival date we already have contacted them, to answer any questions they might have and to discuss the day of arrival. During their stay we are ready to serve them: we respond to possible questions as quickly as possible and we act swiftly when a problem needs to be resolved.
Expansion of our portfolio
Despite the fact that a lot of holiday homes are currently being built on Bonaire, including a number of large resorts with apartments, the rental through Sunwise is going very well. We can especially look forward to many returning guests from our network and we want to offer these people and the group of new tenants, the widest possible range of accommodations. We are currently looking for medium-sized villas, three bedrooms and a swimming pool. Currently the greatest demand from our network is for this type of accommodation.
We ask homeowners who want to have their property on Bonaire managed completely carefree, to email us or to call/send a WhatsApp message at +5997805223