Wakeboarding Bonaire
Not very difficult to learn!
Wakeboarding is cool, incredibly fun and students will experience a very steep learning curve.
The sport started in 1985 in the United States, where Tony Finn, an experienced golf surfer, developed a wakeboard in San Diego. His board looked like a very small surfboard with two feet straps and it did not look like the streamlined boards that we see today. The wake of the towing boat is used for stunts. The rider can make a leap by sailing hard on the wake and using this wave as a ramp.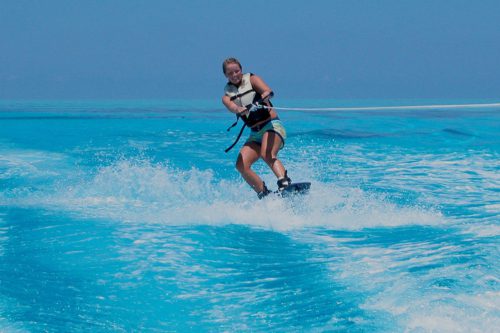 Pleasant conditions on Bonaire
The west coast of Bonaire offers the ideal environment for wakeboarding, also for beginners, with the – usually – flat water and the generally good wind conditions.
There are various rental companies that rent out boats and wakeboard equipment:
Bonaire Boat Rentals
Blue Bay Bonaire
Caribe Watersport
Also for wakeboard lessons
Never been on a wakeboard before? That does not have to be a problem. Most boat rental companies on Bonaire also have experienced instructors in house and most of the students sail independently within the first hour! Even people that already can 'get out of the water', but just want to improve their skills, make higher leaps or want to learn new stunts, are the right place at these local teachers!